Geometric Science of Information (GSI)
Biannual international conference co-organized by Frédéric Barbaresco and Frank Nielsen.
Last updated, 10th January 2023.
---
GSI cycle: GSI'21 GSI'19 GSI'17 GSI'15 GSI'13
Related events: MaxEnt'22 SPIGL'20 FGSI'19 CIG'17 MaxEnt'14 MIG'11 ETVC'08
---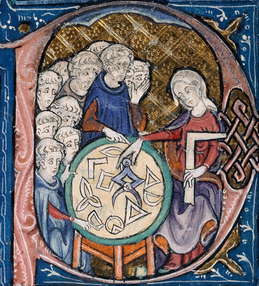 The conference image signage is Woman teaching geometry, an illustration of Euclid's Elements (c. 1310). Jump to French description
GSI music signage: Sonatina for flute and clarinet: I. Pastorale by Jean Cartan, son of renown Élie Cartan and brother of Henri Cartan. Jean Cartan was a student of Albert Roussel who was himself a student of Julien Koszul whose grandson was Jean-Louis Koszul.

If music does not play, we recommend you to press play while browsing this GSI page! >
---
Announcing and celebrating 10 years of GSI with GSI'23 at Saint-Malo France: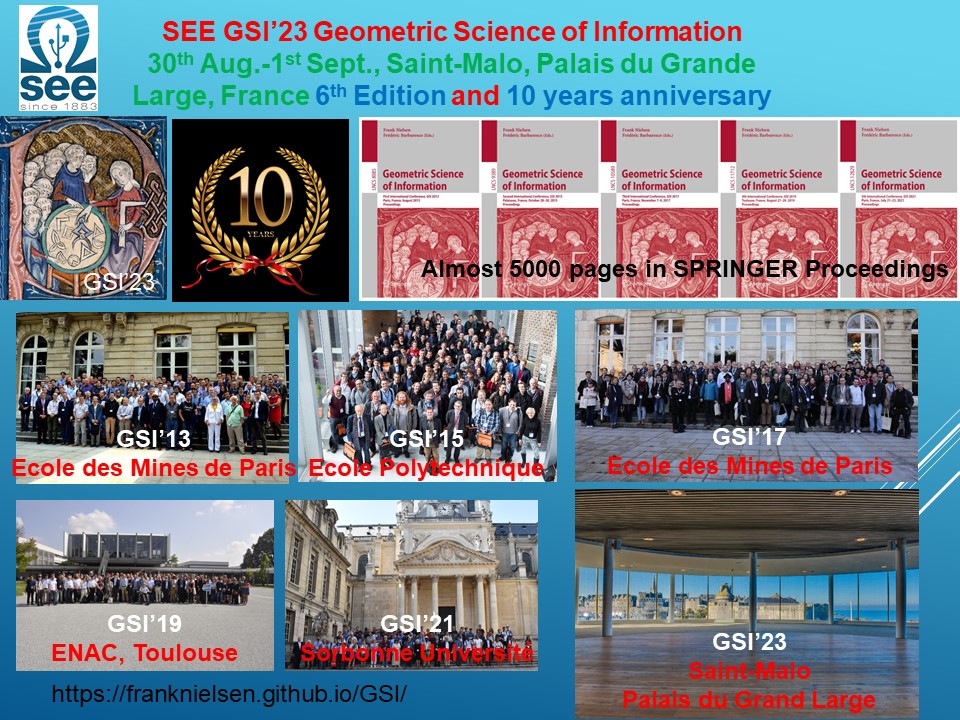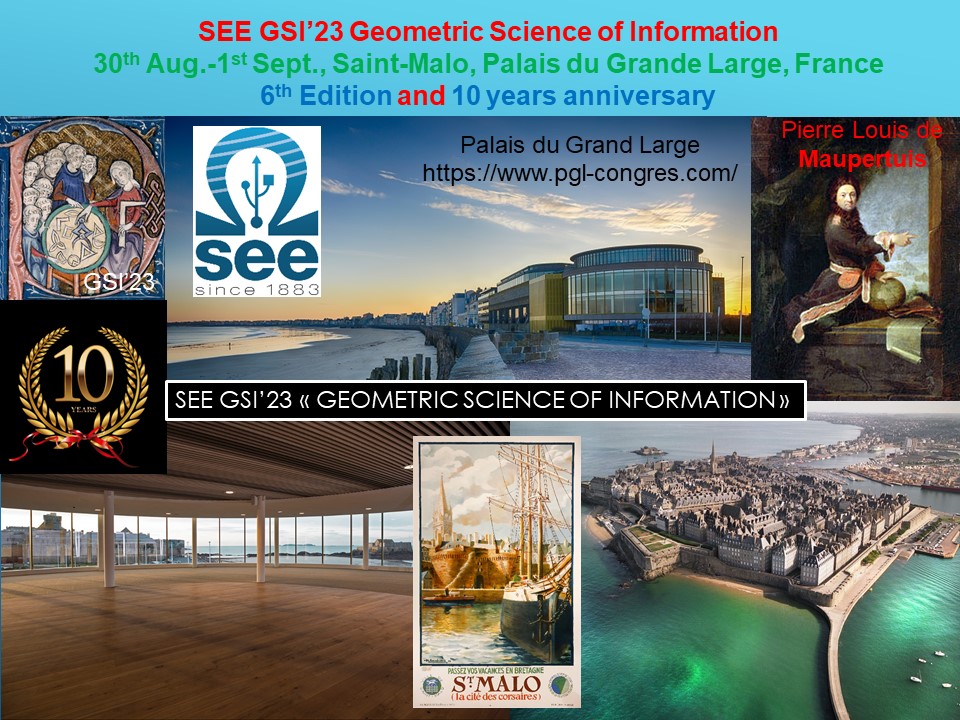 https://gsi2023.org/ Submission:CMT GSI'23
Keynote speakers CfP
Related event at Saint-Malo: IEEE Information Theory Workshop (ITW), 23-28 April 2023
---
Springer GSI conference home page (LNCS 8085, 9389, 10589, 11712, 12829), e-proceedings
---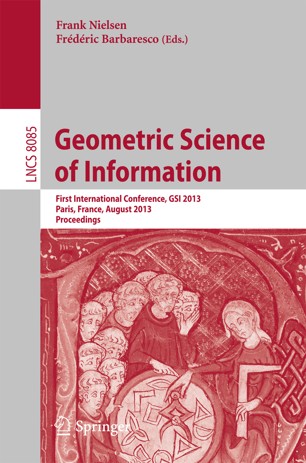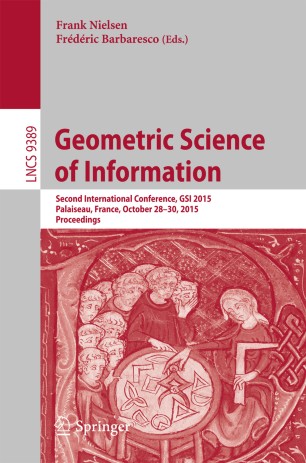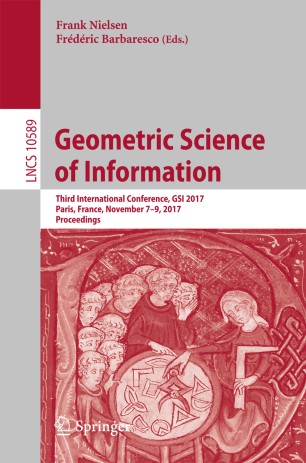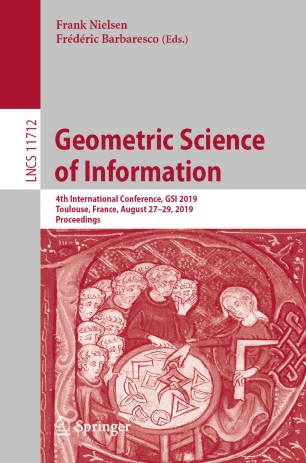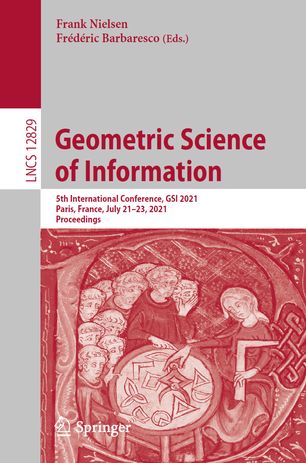 ---
BibTex labels
---
---
Some related events
Maximum Entropy conference (MaxEnt'22) held in Paris at Institut Henri Poincaré, July 18-22 2022
Group photo indoor and outdoor!

📖Proceedings (MDPI Physical Sciences Forum)
📖Special issue (MDPI Entropy)
📹MaxEnt'22 video
web site
MaxEnt22 booklet
Opening slides Closing slides
MDPI Special issue "MaxEnt 2022—the 41st International Workshop on Bayesian Inference and Maximum Entropy Methods in Science and Engineering"
Joint Structures and Common Foundation of Statistical Physics, Information Geometry and Inference for Learning, Les Houches seminar, 26 July-1st August 2020. Geometric Structures of Statistical Physics, Information Geometry, and Learning (Edited book, 2021)
📹Les Houches video

Group photo:

(due to COVID-19, the event was held hybrid with both physical and remote attendance)
Peyresq summer school 2019 of GRETSI (Géométrie de l'information pour le traitement du signal et des images)
Group photo:



Foundations of Geometric Structures of Information (FGSI'19)
4-6 Feb 2019 Montpellier (France)
Web site: https://fgsi2019.sciencesconf.org/
Poster Programme (PDF) Slides and documents
Group photo:


Topological and Geometrical Structures of Information (TGSI'17)
CIRM Luminy, 28th August to 1 September 2017
Web site: http://fconferences.cirm-math.fr/1680.html
Programme
Group photo:



Computational Information Geometry For Image and Signal Processing, ICMS, 2017
Computational Information Geometry: For Image and Signal Processing (Springer, Edited book)


MaxEnt 2014 21st-26th September 2014, Château du Clos Lucé, Amboise (France)
Proceedings MaxEnt 2014
Group photo:



Matrix Information Geometry, 2011. web site Booklet Matrix Information Geometry (Springer, Edited book)
Group photo:



Emerging Trends in Visual Computing (ETVC 2008), LIX Fall Colloquium. Proceedings (Abstract) Video web site Read LNCS proceedings LNCS proceedings
Group photo:



Seminar Léon Brillouin : sciences géométriques de l'information, started 3rd December 2009: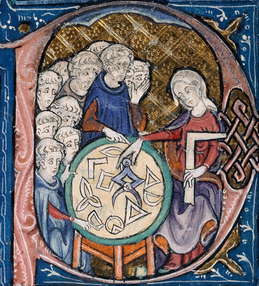 Woman teaching geometry
High resolution image

Détail d'une scène dans la lettre 'P' d'une enluminure avec une femme tenant une équerre et un compas à pointes sèches. Elle est observée par un groupe d'étudiants. Au Moyen âge, il est inhabituel de voir des femmes représentées comme des professeurs, en particulier quand les étudiants semblent être des moines. Elle est plus probablement la personnification de la Géométrie, basée sur le livre célèbre de Martianus Capella de Nuptiss Philologiae et Mercurii, [5ème c.] une source standard des images allégoriques des sept arts libéraux. Illustration au début des Eléments d'Euclide, dans la traduction attribuée à Adelard de Bath.
---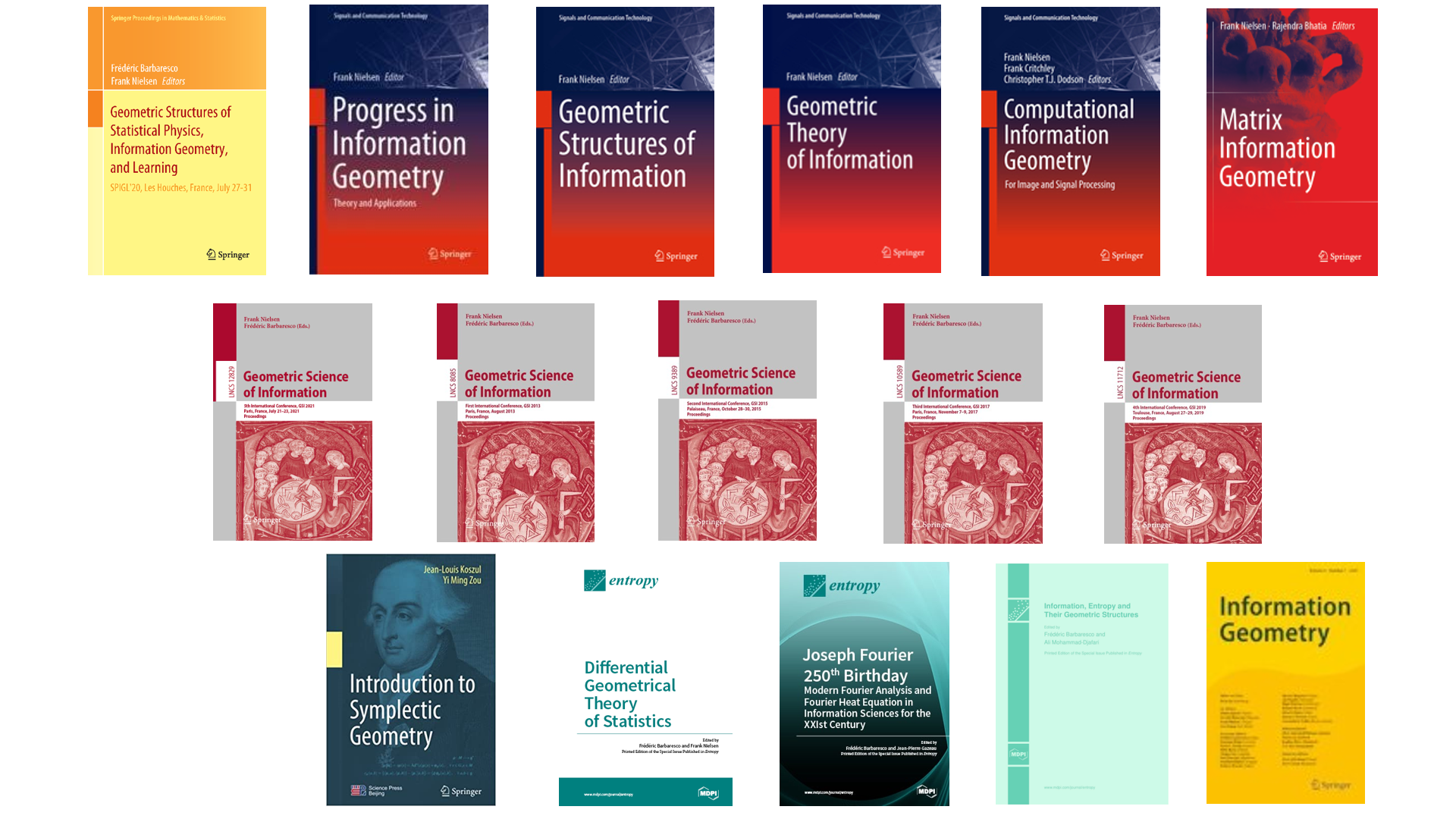 ---
Poster for the Geometric Science of Information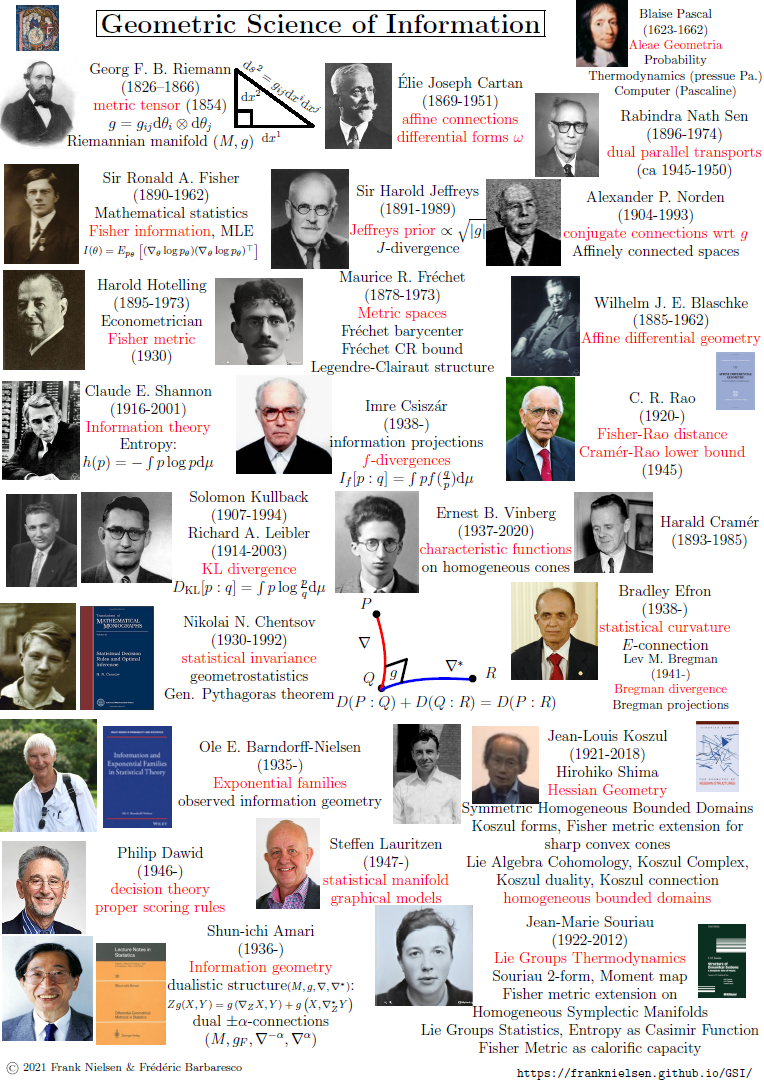 ---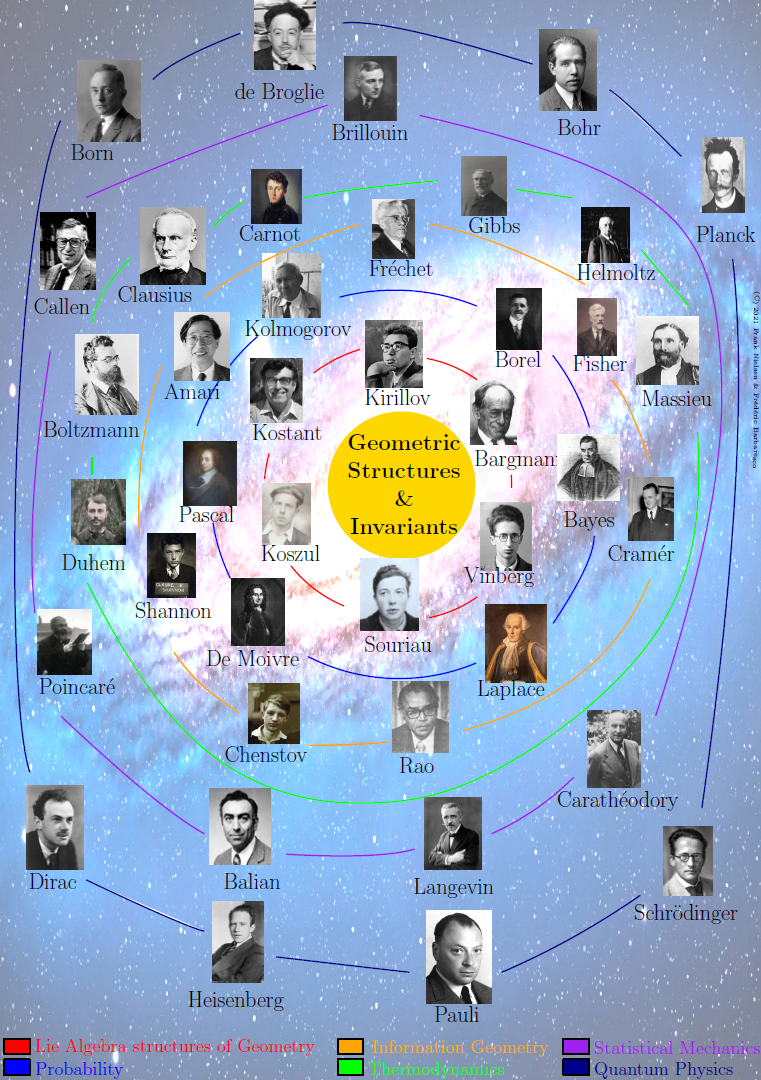 ---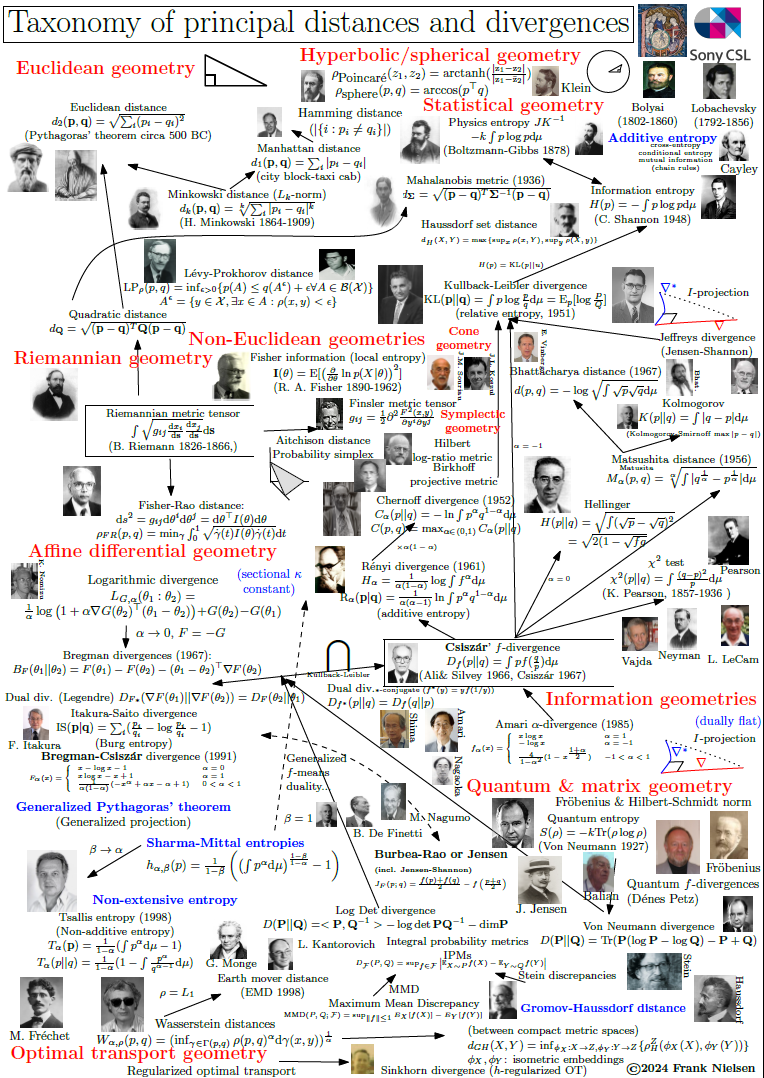 ---
Hall of fame GSI books
A very partial list of books which are shaping GSI:
Siegel, Carl Ludwig. Symplectic geometry. Elsevier, 2014.
Hua, Luogeng. Harmonic analysis of functions of several complex variables in the classical domains. No. 6. American Mathematical Soc., 1963.
Cencov, Nikolai Nikolaevich. Statistical decision rules and optimal inference. No. 53. American Mathematical Soc., 2000.
Amari, Shun-ichi. "Differential-geometrical methods in statistics." Lecture Notes on Statistics 28 (1985)
Amari, Shun-ichi, and Hiroshi Nagaoka. Methods of information geometry. Vol. 191. American Mathematical Soc., 2000.
Koszul, Jean Louis, and Yi Ming Zou. Introduction to symplectic geometry. Springer Singapore, 2019.
Nomizu, Katsumi, Nomizu Katsumi, and Takeshi Sasaki. Affine differential geometry: geometry of affine immersions. Cambridge university press, 1994.
Ay, Nihat, et al. Information geometry. Vol. 64. Cham: Springer, 2017.
Shima, Hirohiko. The geometry of Hessian structures. World Scientific, 2007.
Marsden, Jerrold E., and Tudor S. Ratiu. Introduction to mechanics and symmetry: a basic exposition of classical mechanical systems. Vol. 17. Springer Science & Business Media, 2013.
Kostant, Bertram. Collected Papers: Volume I 1955-1966. Vol. 1. Springer Science & Business Media, 2009.
Gelfand, Sergei I., and Yuri I. Manin. Methods of homological algebra. Springer Science & Business Media, 2002.
Souriau, Jean-Marie, and Ch Cushman. Structure of dynamical systems: a symplectic view of physics. Vol. 149. Springer Science & Business Media, 1997.
JM Souriau web with PDF papers
Marle, Charles-Michel. Géométrie symplectique et géométrie de Poisson. Calvage & Mounet, 2018.
BibTex

@book{GSI-2013,
  title={Geometric Science of Information: First International Conference, GSI 2013, Paris, France, August 28-30, 2013, Proceedings},
  author={Nielsen, Frank and Barbaresco, Fr{\'e}d{\'e}ric},
  volume={8085},
  year={2013},
  publisher={Springer}
}


@book{GSI-2015,
  title={Geometric Science of Information: Second International Conference, GSI 2015, Palaiseau, France, October 28-30, 2015, Proceedings},
  author={Nielsen, Frank and Barbaresco, Fr{\'e}d{\'e}ric},
  volume={9389},
  year={2015},
  publisher={Springer}
}


 
@book{GSI-2017,
  title={Geometric Science of Information: Second International Conference, GSI 2017,  Paris, France, November 7-9, 2017, Proceedings},
  author={Nielsen, Frank and Barbaresco, Fr{\'e}d{\'e}ric},
  volume={10589},
  year={2017},
  publisher={Springer}
}

 
@book{GSI-2019,
  title={Geometric Science of Information: Second International Conference, GSI 2019, Toulouse, France, August 27-29, 2019, Proceedings},
  author={Nielsen, Frank and Barbaresco, Fr{\'e}d{\'e}ric},
  volume={11712},
  year={2019},
  publisher={Springer}
}


@book{GSI-2021,
  title={Geometric Science of Information: 5th International Conference, GSI 2021, Paris, France, July 21-23, 2021: Proceedings},
  author={Nielsen, Frank and Barbaresco, Fr{\'e}d{\'e}ric},
  volume={12829},
  year={2021},
  publisher={Springer Nature}
}

---
Last updated by Frank.Nielsen@acm.org, July 2022/